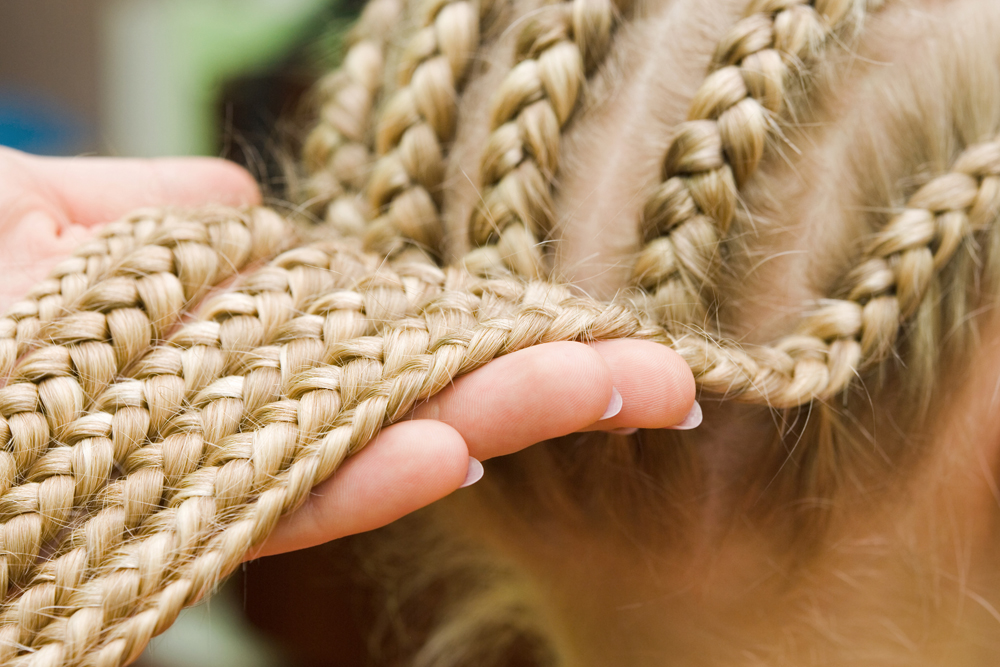 Check Availability
Note: Service rendered subject to stylist's specialties. Hair is not included. Client must provide. Requires in-person consultation. Removing previous extensions is charged additionally.
1). Common Types of Braids
There are tons of different types of braids—all of which are unique to their own. Yes, these guys are almost all based off of the same building block, but they all take twists and turns (no pun intended) of their own. Between fishtails, milkmaid braids, French braids, and more, there is a lot of lingo to learn. Click here for the terms to know, plus corresponding pics, tutorial suggestions, and helpful tips.
2). Understanding Hair Extension Types
Wefted Extensions
Machine wefted or machine weft hair extensions refer to products which have been sewn or "wefted" to create the bundle of extensions. Loose or "bulk" hair is fed through a triple-head sewing machine to add a reinforced stitch near the top (root) of the individual strands. The hair is then folded over and stitched again to create the final wefted extensions. While mostly used as a technique for permanent extensions (sewn in), machine wefted hair extensions are also used as the base to create extension collections.
Hand wefted or hand weft hair extensions. In this case, the individual strands are tied by hand to create the secure weft. This type of wefted hair extensions create a very strong, but much thinner weft when compared to machine wefted hair extensions. The end result sits a bit closer to the head, offering less bulk than the machine wefts. Hand wefted hair extensions are typically utilized as permanent extensions, although they could also be used to create temporary or clip in hair extensions.
Bulk Hair Extensions
Bulk refers to a bundle of hair with no weft. Bulk hair is used to create weft hair extensions but is also offered for sale to clients who wish to use the loose hair to create their own weft hair extensions or for braiding and Brazilian knotting techniques.
Fusion Hair Extensions
Fusion refers to a bonding technique used with individual strand fusion hair extensions. A specialized hot tool is used to soften a pre-bonded keratin tip to allow it to fuse to a section of your own hair. Fusion hair extensions are considered permanent because of the long lasting result. Fusion extensions are generally removed and reinstalled every 2-3 months. There are two basic types of fusion hair extensions: The first, and most common, uses nail tip, v-tip or flat tips to bond the strand to your hair without the use of any tubes, links, rings or clips
The second, and less common, is a shrinkable tubing technique which utilizes i-tip fusion extensions along with a heat-sensitive tube. The i-tip is inserted into the tube along with a strand of your hair. Again using a specialized hot tool, the stylist applies heat to the bonding point which softens the keratin and shrinks the tube, securing the extensions to the natural hair.
Pre-bonded strands use 100% natural keratin, not glue, ensuring a damage-free hair extension experience. Fusion hair extensions come in two types: i-Tip and v-Tip.
Clip In Hair Extensions
Not interested in permanent extensions? Clip in extensions offer the versatility of permanent extensions and fusion hair extensions without the commitment. There are a variety of textures and colors in the innovative, quick and easy to apply pieces in most collections.